IT'S DONE! IT'S DONE! I'm so excited and L.O.V.E my new laundry room. Doing the laundry is pure joy now! Well, let's not go that far, but it's definitely a lot easier to bear when you have a beautiful room in which you can go to do that particularly endless chore.
Remember back on
June 1st
when I announced I was remodeling my laundry room? My goal was to have it completed by the time school starts in August. Well, school starts in 3 days (I've actually been going in for over a week now though!) and I literally put the final touch on the room earlier today. However, before we see the glorious transformation, let us revisit the horror that was the room "before":
Note the exposed subfloor and unfinished drywall.
What can I say? It was an unorganized, ugly mess. If you know me well, you know that unorganized drives me insane! I can't believe I've been living with this for 20 years! Luckily, I had A LOT of help from my amazing husband, Lance! I couldn't have done it without him! My boys also put in their fair share of time helping me. Thank you Kenny and Kelin!!!!! So, without further ado, here is my new laundry room..........
............................
............................
Wait for it.........................
.....................................
TADAAAAAA!
You would think that those gray fabric bins would be easy to find. Nope. I could find every other color available, except gray. I finally had to order them From Amazon. I found the yellow at Lowes.
I could not find curtains anywhere that I liked. I ended up buying a set of full size sheets at Target and cutting them up. I just laid the flat sheet out, measured 55 inches from the bottom of the sheet up and cut. Then I cut that in half, hemmed the two sides that weren't already factory hemmed, and done. I used clip rings to hang them.
Here's a closer picture so you can see the pattern and the cute birds on the wall (also from Target).




This is one of my favorite things in the room: a pantry shelf. I've never had any place to put extra cupboard items and thus my kitchen food cupboard is overstuffed! I can't believe what a difference it has made by just taking out a few boxes so far. You'll never guess where I got the pantry shelf kit! Target of course! :) Lowe's had them, too. 
On my wish list for this room was a counter and cupboards. Now I have a place to fold laundry, work on a project, lay a sweater flat to dry, whatever.

The little laundry cart at the left was found at Menards. It fits perfectly and is on wheels so I can just pull it out to get the supplies on the bottom. 
OMG! I had a genius idea that I just have to show you! I was looking for a cute container of some sort to put my dryer sheets in. I know, that's a little obsessive, but I wanted a nice looking dispenser rather than the ugly orange Bounce box that totally clashes with the rest of the decor! Ladies...am I right???? So I'm walking around Target and it hit me like a ton of bricks when I saw this chrome napkin holder.
I put the dryer sheets in the holder just like a pile of napkins. All you have to do is grab the sheet and pull. It pops right out! Is that cool or what? It also helps keep the room smelling nice because the sheets are sitting out. I am very excited about my new Bounce dispenser. :) Of course, you have to find just the right napkin holder for this.

We had MANY, MANY frustrating problems come up. For example:
Fail! The drawers wouldn't close. They were too tall and hit the counter top. This all had to do with our uneven floor, trying to level the cupboards, and the counter. UGH! All we could do was laugh becuase this was the end of a very loooong day. Lance ended up sawing off the tops of the drawers. LOL! I painted them white and you can't even tell the difference now. 

I did remodel the entryway, too. There's a door that separates the two rooms. Remember the awful "before" picture? Pretty bad, huh? I promise, the rest of my house does not look this bad!!!!!!! :)
"After." MUCH better! It's not as fancy as the laundry room. I have a project to do that will go on one wall, but it's not done - and won't be for awhile. I have a chair that will sit in that corner next to the wardrobe so Lance can sit and take off his work boots when he gets home from work. I'm not sure what possessed me to do everything in white because I'm pretty sure this is going to be one of the hardest rooms to keep clean!

Let's take one more quick look, shall we? :) Ahhhh.........
So, what was the damage? I was hoping to do this remodel for $1,000 or so. I really should know better than that because no remodel in the history of remodels has ever been on budget. And ours generally run almost double of what we think they will. I spent around $1,800. I didn't keep perfect records, but that's a good estimate. The cabinets are what put me over budget, but I really wanted them. It was worth every penny!
Whew! That was a long post! :) I hope you've enjoyed your laundry room tour. I've been doing laundry all day and I really haven't minded it one bit! Don't worry. I'm sure the newness will wear off soon and I'll hate laundry again just like everyone else.
Have a wonderful week!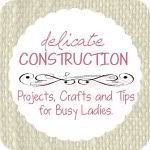 Pin It